A common question I get is..
"If I build a fan page or customer magnet, will it drive traffic to my website."
The short answer is NO.
Making the customer magnet won't drive the traffic..
But in combination with what I'm going to share with you in this post, you will be able to get more out of your existing website traffic, build your email list and influence that email list to buy from you now and in the future.
Step 1–  Create a customer magnet (a shareable piece of valuable content you can use to build your email list)
Step 2– Make your free offer available as a free first step on your website to build your email list establishing a relationship and point of communication with each prospect that visits your website.
Example: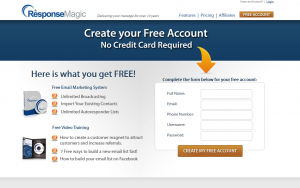 Step 3– Make your customer magnet available on your facebook fan page to help your fans spread the word.
Step 4– Import your existing customers/prospects and give them your free customer magnet so they send you referrals.
Here's how to Importing an existing list of contacts from your email program (like Outlook or Gmail ) or another contact manager
Step 5– Share your free customer magnet with people by driving traffic to it.
Here are some methods to drive targeted traffic to your customer magnet with free or paid methods.
Over view on Attracting Customers with Information
Article Marketing
Free Facebook Traffic
Facebook ads
Step 6– Then you want to send emails that drive clicks to quality content designed to influence that audience to understand why they want what you have to offer.
–The Passive Email Marketing Strategy that Works.
Ryan Hache