So you have probably seen many faces start to show up in google search results lately and you might be wondering how they did it.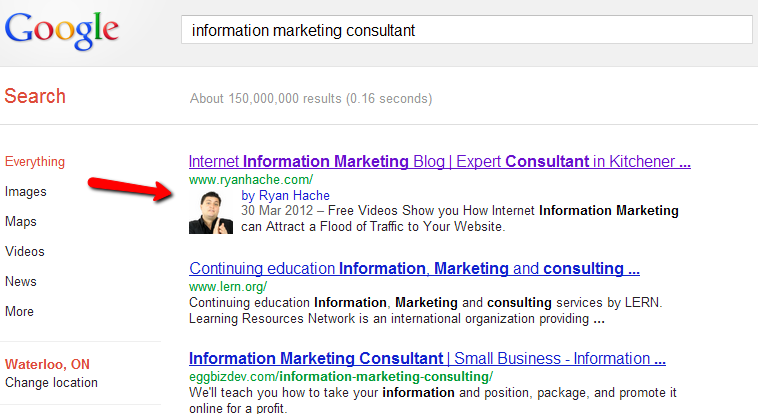 Well before I get to how you get your face to show in the Google search results lets quickly cover why you might want to get your face to show in the google search results.
Why you want your face in google search results
The first reasons you might want your face to show in the google search results is that it is very personal and connects a face to the person that writing the post. This gives your readers a sense of satisfaction knowing that it is a more legitimate source that is writing the post.
The second reason you might want your face to show in the google search results is that it is going help you stand out more and get you more clicks!
How to get your face to show in Google Search Results
Step 1: visit http://www.google.com/profiles
Step 2: If you do not have a google account you need to create one. but I'm going to assume you have a google account if you are reading this post. Since they have now merged this feature in with google plus if you have to open a google plus account now to activate this page you will need to do that first and revisit step 1.However if you do have a google + profile already you should see a screen that looks like this.


Step 3: Click on the blue edit profile button to the left of the image
Step 4: Scroll down until you find the profiles section right below that should be a section called contributor to, click right on contributor to.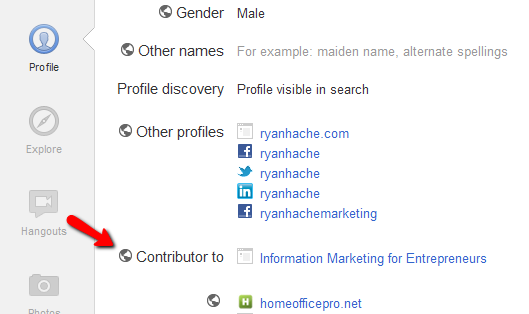 Step 5: Click add custom link

Step 6: It will show you a screen like this, enter the name of your blog. This is a good opportunity to put in the keyword that you are trying to rank your blog for in google as google will make a nice association with this keyword to your blog if you enter the keyword in with your title. As you can see I have entered "Information Marketing for Entrepreneurs". Then just enter in the url for your website or blog.


Step 7: Find your google profile url.. this is easily found on the page you are already on. All you have to do in delete the stuff after the numbers like this.



leaving you with this -> https://plus.google.com/101050191310691294469
that is your google profile link you will use in the next step.
Step 8: simply add the following link code somewhere in the footer of your website. If you have a developer you can just hand this to them.
<a href="https://plus.google.com/u/0/1010501913106912XXXXXX" rel="me" title="My Google Profile">My Google Profile</a>
If you don't have a developer, I'm going to show those of you who use wordpress an easy way to do it.
a) All you have to do is login to your wordpress admin panel and mouse over Appearance and click widgets
b) on this page i'm going to assume you have a widget on your side bar that either has your opt in form code or your social media follow buttons. All you have to do is add it right in there somewhere that isn't conflicting with where your readers are going to be confused by it.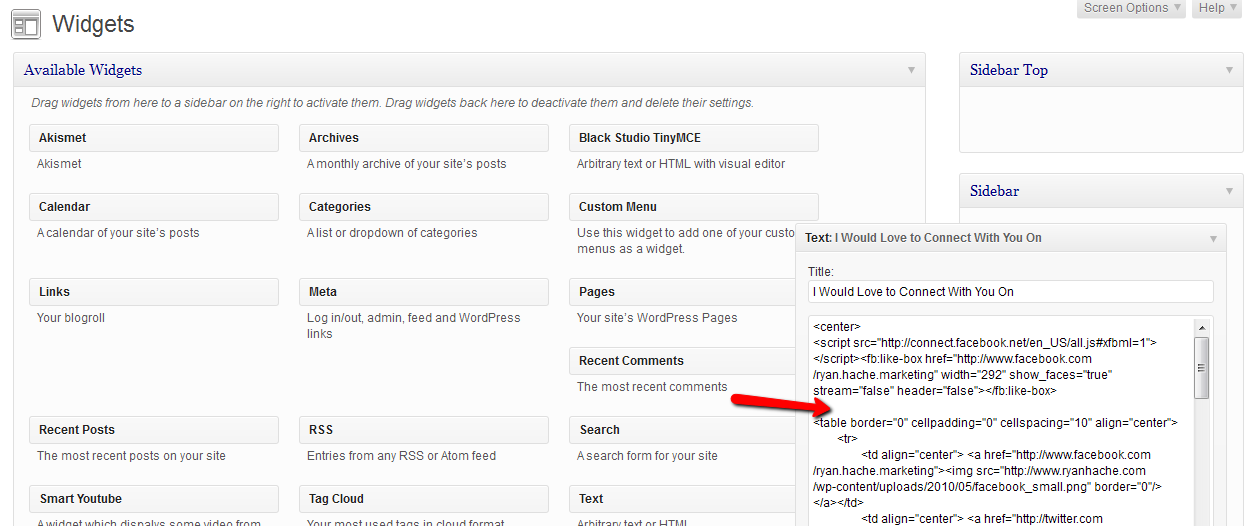 That's it, you now have your pretty face in the search results and you are on your way to building stronger connections and attracting more clicks from the search engines.
If you like the post please take 5 seconds to click the like button, give me a plus + and share it with your friends that could use it using the social share buttons below.
Thanks in advance.
Ryan Hache.