As you may have heard Facebook has forced all businesses to switch from the old fan page style to the new timeline style effective march 30th weather we like it or not.
Lucky for you I have been testing an tweaking new techniques so that when this day was came I could share with you what i've learned. More importantly i'm going to show you how to take easy actionable steps to updating you facebook fan pages for the new timeline so you can get the most out of your facebook timeline fan page spending the least amount of time possible.
Why do you care? because your audience is on facebook and being where they are and up to date shows your customers you are willing to be transparent and involved where they live.
Before I get into how to easily update your facebook fan page for timeline in the shortest possible amount of time, I wanted to go over the top 3 questions on everyone's mind that have been spreading about facebook timeline. These myths and truths should help bring you up to speed on what is really happening.
#1 – All reveal tabs are dead and will be shut down (false)
If you are not familiar with what a reveal tab is, they are simply a stand alone page on facebook where you give an incentive for clicking on your like button. These tabs are part of a strategy I teach to double your fans, but if you want more on that you will have to check out my facebook fan page here. There has been a stir around the web that reveal tabs no longer work or that facebook will be shutting down reveal pages in the new timeline format. This couldn't be further from the truth. In fact they are better than ever, they look great and convert even better than they ever have.
#2 – You are no longer able to set your default landing page (true)
Yes its true, you can now no longer redirect new visitors from your home page to your reveal tab. You are still however allowed to link directly to your reveal page from your blog and you are also allowed to run your ads directly to your landing pages. If you are worried about people who find your wall through search no longer liking your page, don't worry because I'm going to show you how to drive a ton of wall traffic to your reveal pages with the new timeline features that have just been released with these changes.
#3 – You can no longer show all your tabs (true)
This is true! Awesome.. People, this is a good thing. Facebook is forcing you to convert better, you should thank them. They have actually made the tabs into big graphical icons with text that you can now show up to 4 of on your main page. One of the icons is photos and has to stay put, but the rest are for you to use and can be used for your reveal tabs and like box. This actually helps us solve problem #2 and I will show you below how I have used both the photo box to get more conversions and the perfect configurations for your tabs.. keep reading.
Whats New when Configuring Facebook Timeline?
#1 The New Facebook Timeline Cover Image and Dimensions
With facebook's new cover image is big and full of life at 851 wide by 315 tall pixel. You can even be clever in suggesting new prospects go to your reveal page while bringing a big presence for your brand to the wall. No more randomized images! Woo Hoo!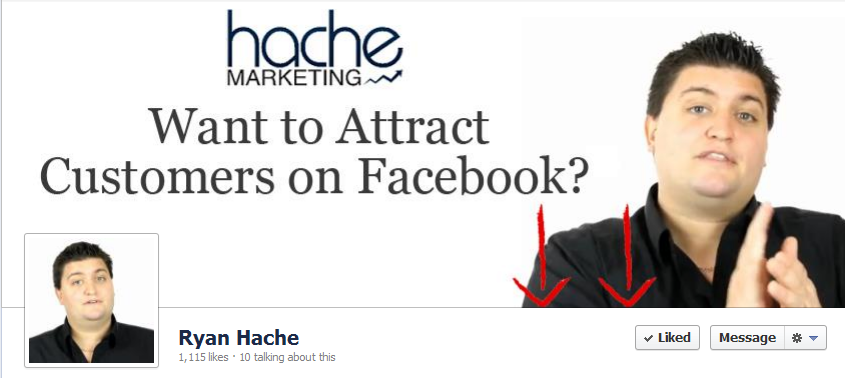 But be sure not to break their new rules though!
Here are a list of the new facebook cover image Rules:
No prices anywhere
No purchase suggestions
No contact info
No reference to the like button
no direct calls to action
Check out my my fan page to see how I suggest with a question without a call to action..
Click here to check our Ryan Hache On Facebook
#2 The New Facebook Timeline Tab Layout
The new tab layout has been scrutinized but i'm a huge fan. When you give people too many options they are more likely to choose none. This is a prefect example of that. The old tabs were showing too many options.. if they want more options they can click the down arrow. Otherwise keep it clean keep it simple. You will notice I have the photos box, my reveal tab and my like box. You can have up to 4 on your home screen but I prefer 3 for 2 reasons.
I want to give them one option, my reveal page offer.
You get more room for the newly situated about box.
Another thing you will notice is that you can't move the photos box. No problem, after you are finished uploading your images for the day just make sure to upload the good old start here graphic to suggest users check out your Reveal Page. This works like a charm. Here is that image if you want to download it for yourself.
http://www.ryanhache.com/wp-content/uploads/2012/03/start-here-image.png

#3 The New Facebook Timeline About Box!
This is one of my favorite things.. It seems so simple but it is extremely important. With any social network it is important to drive people back to your "money site" aka your corporate website or blog, you know where you take in leads and make sales. Don't overlook this box. Use it as an opportunity to showcase your unique selling proposition and always start it with "Visit (yourwebsite) .. then your tag line.

#4 The New Facebook Reveal Squeeze Pages!
In this video I show you how to create a facebook reveal page on your new facebook timeline page in 3 minutes to attract more fans. You won't need a programmer, designer or even a hosting account. Just 3 minutes and an imagination.


Click Here to get the Software to Create your Free Facbook Timeline Reveal Page 
Thanks for Reading, can you do me a favor?
If you enjoyed the post please share it by re-tweeting this post or liking it on facebook. You could also email it to anyone who you think could benefit. That's all, Thanks again.
Also if you want even more help and a different view on this you will want to check out