I think it's important to attract "free" traffic on a consistent basis as part of your routine. Don't you?
I personally like "building" traffic like I "build" income. The best kind of income for me is when you put in some work now to reap the benefits over and over in the future. By this I mean recurring income that comes in from that work month after month long after you finished doing the work.. You can apply this same principal to traffic!
Get the Free Online Course
Learn How to Attract Customers for Free with Un-Tapped Traffic Sources
and join over 5,000 business owners who have downloaded the free course.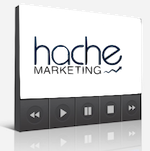 Content is king
You can create a piece of content now and it will continue bringing you traffic month after month in the future. The more information content you create the more traffic you can generate as time goes on because you are exercising the power of leverage. You are leveraging your thoughts and ideas. There are many different ways to create leveraged information content both online and offline in many different modalities.
There is written word (books, courses, blog articles, web pages)
audio (pod casting, songs, streaming audio sites)
video (TV spots, YouTube videos, video sales letters, video emails)
I recommend starting with article marketing to convert your time into content, then into "residual" traffic then into sales.
The key word is residual. Once you create an article it will continue to work for you generating you traffic and leads long after you create it.The more you write in a strategic fashion, the more "traffic equity" you build. Here is a video that explains article marketing if you are new to it.. Article Marketing for Newbies
To perform an article marketing strategy properly you need a blog.
-If you are looking to start a blog I recommend first reading this article, on developing your unique selling proposition. by Corbett Barr from ThinkTraffic.net Corbett is an expert in online traffic creation using information content and I have learn a lot from following his blog at thinktraffic.com. If you want a step by step plan for not only starting a blog, but starting a blog that matters check out Corbett's online course. Its an exceptional value for what you get at just $97, its a total steal.
-Next you need a hosted blog. Here is how to build a hosted blog in 3 minutes By Ryan Hache
-Get your blog ready to convert traffic into leads by creating a customer magnet and putting it on your blog.
How to Create a Customer Magnet Video by Ryan Hache
-Research Keywords in your target niche that have low competition, high traffic, high relevance and commercial intent. Order those keywords from lowest competition to highest competition here is a video on picking your keywords and making a keyword list. By Ryan Hache
-Document this list in a program like teamwork pm a great way to manage your list of action items and keep you on track
-Then take that list and convert each keyword into a "headline" for a blog post that contains your keyword. Check out this excellent headline resource How to write magnetic headlines by Copy Blogger
I also recommend reading this book on sales copy and headlines I think its 10 bucks.. its worth 10 times that:
The ultimate sales letter by Dan Kennedy
-Now you are left with a list of 10 killer headlines.. it's time to Write epic shit (read this) By Corbett Barr from ThinkTraffic.net
-This step is optional depending on how much time you have but can allow you to tap into another great source of free traffic, Video. You can shoot a video about your killer blog post, post it on you tube and embed the YouTube video in your article. Make sure to put a link back to your article at the start of the description and a reason why they need to check out the article.  TIP: (also make sure to toss in the link to the video itself at the end of the description just in case others embed the video on their site, it will give you extra backlinks.
-Now post it live!…
-email it to every lead on your email list
-email it to your friends and associates to share it for you. (you will do the same for them)
-share it! on Facebook, twitter, google +,  linked in, pinterest, onlywire.com.
Now once your blog gets some authority, that should be enough of a push to get it on the first page of Google for a low competition keyword, which I recommend for your first few blog posts. Doing low competition keywords first will give your blog relevance and authority in the niche.  Once you have that you can start targeting bigger and bigger keywords. If you want to really go after some bigger keywords you need to build backlinks to your articles check out my backlink getting strategy on this post the tools I use under Building Traffic to your Website or Blog Content and check out the backlink strategy that works by Pat Flynn (Pat Flynn is a great down to earth guy who is killing it online)
I know as soon as I started implementing these strategies it really helped me increase my blog traffic.
All the references listed here are A-list bloggers in the Internet marketing space that I trust highly.
If you liked this post help spread the word by sharing it on your facebook, twitter, google+ or linked in profile by using the buttons below.
Thanks again for reading this far!
Ryan Hache.